Discover more from Tanay's Newsletter
Musings about tech and business
Over 8,000 subscribers
The SPAC is back
If you're like me, you've probably not been able to go more than a few days without seeing something about a new SPAC being raised or companies going public via a SPAC.
So what are SPACs and why are they so popular (again)? That's what I'll go over today.
What is a SPAC
SPAC stands for Special Purpose Acquisition Company. It is essentially a "blank check" company that goes public and raises money from the public with the intent of using the proceeds to acquire a (typically) private company to be determined after going public.
How SPACs work
SPACs are typically started by "sponsors" i.e. investors or operators with a track record and reputation that allows them to raise money, source deals, and complete an acquisition successfully.
The typical process looks like the following:
The sponsor files to go public through the typical IPO process. However, since SPACs are a blank check company, the requirements for an IPO are considerably fewer, and the process can be a lot quicker (a few weeks).

Once the money is raised, it is placed in a trust account and held in cash or in short term government securities. This money is not released until a business combination is complete (or if the SPAC fails to complete one in the specified period)

Post the IPO, the SPAC begins to search for a target business. It typically has a fixed period (~24 months) to complete a business combination with a target business. Expenses are typically funded by the sponsors themselves, although interest from the trust account may also be used.

Once the SPAC has identified a target, it essentially seeks to merge with the target company through a process known as a De-SPAC transaction. This transaction typically requires shareholder approval from the SPAC investors and also requires that investors are entitled to the pro-rata proceeds in the trust account instead if they so choose.

If a business combination fails to happen in the specified period, the money from the trust account is returned to investors.
The benefits of SPACs
There are three key parties involved in a SPAC. The founders or "sponsors", who essentially create the SPAC, the retail and institutional investors who invest in the SPAC and (potentially) the business entity which the SPAC is combined with.
Sponsors: SPACs are an effective way for investors to monetize their proprietary deal flow and allows them to tap into the public markets to raise money which may be easier and allow for raising larger sums. They typically are granted founder shares and warrants in the SPAC, which typically translates to 20% of the ownership of the common stock post the business combination and so the economics of the transaction can be lucrative as well.
Investors: SPACs allow investors to get in relatively early into a potentially attractive investment opportunity alongside successful investors (i.e., sponsors). In addition, this investment is liquid from early on and in case of a failed transaction their downside is protected (since their funds are held in a trust account)
Target business: For businesses, SPACs provide a means of going public in any environment and getting access to the public markets. Compared to an IPO, going public via a merger with a SPAC is a lot quicker and cheaper with fewer hurdles (the SPAC has already raised money…) and also involves valuation certainty in that the initial valuation is set based on negotiations with sponsors rather than based on investor demand. Compared to exiting via a sale, SPACs allow management of target businesses to retain stock in the business and share in the upside.
The Return of SPACs
As the title hinted at, SPACs are not a new phenomenon. SPACs have been around since the 1990s and were all the rage in the mid-2000s prior to the Great Financial Crisis. 2007 still remains the largest year in terms of the number of SPACs raised, as the data below highlights.
Following the financial crisis, as the IPO market cooled, so did the SPAC market. The number of SPACs raised declined, and the SPACs that did raise money were often unable to find a suitable candidate to acquire.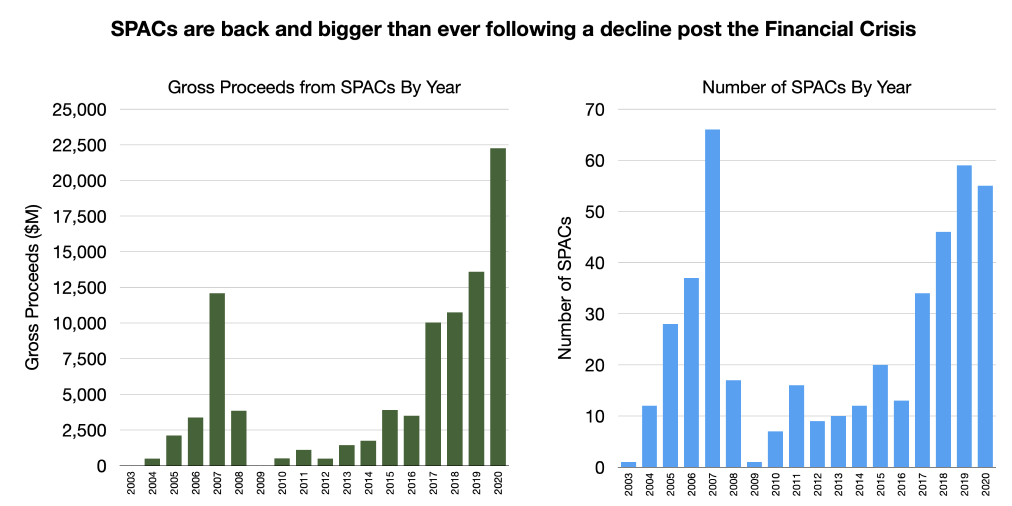 Over time, SPACs have begun to see a resurgence, particularly over the last few years. 2019 saw the biggest ever year for SPACs in terms of gross proceeds, and 2020 handily surpassed that and should also surpass 2007 in terms of the largest number of SPAC IPOs in a year.
Some of the high profile SPACs over the past year included:
DraftKings, the online fantasy sports and betting platform, which currently has a market cap of ~$12B and is up over 200% since the initial IPO.

Nikola, the electric trucks startup which currently has a market cap of ~$13B and is up over 250% since the initial IPO.

Virgin Galactic, the commercial spaceflight company, which has a market cap of ~$5B and is up over 100% since the initial IPO.
In addition, Bill Ackman, the founder of Pershing Square, raised a $4B SPAC - the largest ever - to take a mature unicorn public.
Reasons for the resurgence
The resurgence of SPACs is down to a combination of general market factors (more IPOs, more private companies, more capital chasing returns) as well as the benefits of SPACs for all parties highlighted above. The key reasons are:
Improving market conditions with a long bull market and an increase in the number of IPOs has also made raising SPACs easier and more attractive.

A low-interest-rate environment with a lot of capital chasing returns has made it SPACs a viable means to raise money directly from public investors. Indeed, private equity companies have been increasingly acting as SPAC sponsors as an alternative way to raise capital directly from the public.

The downside protection (in case a deal isn't found) and liquidity that SPACs allow for make them an attractive way for investors to access potentially high yielding investments.

SPACs provide an avenue for companies that may not have been able to go public by other means to go public and there are many more private companies today seeking a liquidation event than in the past. While the 20% "fee" to sponsors is expensive and a drawback, it may be worth it for the speed and ability to go public in any market, and may not seem too expensive in light of underpriced IPOs.

Easing regulation: The NYSE eased SPAC regulations to more closely match the NASDAQ rules, which were less onerous. In addition, a number of proposed changes are currently in the works which would defer entry fees or waive annual fees upon closing.